Encoding modes (rochester.edu)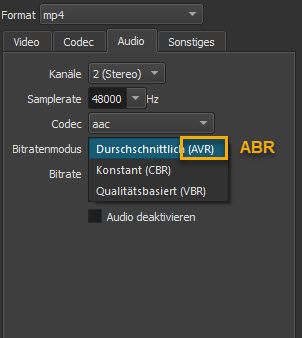 Thanks for the incredible tool for audio and video editing, you are the masters!
You are showing the German language for the Shotcut UI but linking to an English page. Maybe AVR is more conventional in German? I do not know. Google translate suggests "bitrate" or "bit rate" does not change from its English. Same with the label "Bitrate" shown in the screenshot. In any case, translations are done by the world community through the Transfix Website where you can login and make the change yourself, please, if you are confident about the correction.
I think that regardless of the language of the translation, the abbreviation is in English, that is what I am referring to in my suggestion. Therefore, I suppose that it should be ABR (B instead of V, BR for Bitrate).
His point is that the English version of Shotcut does not have abbreviations at all. The abbreviations were added specifically to the German translation files by a German translator at Transifex, meaning the abbreviations would also need to be fixed or removed on that specific translation at Transifex. I'm not sure why the translator added something that didn't exist in the English source. Or maybe it did years ago and was since removed, but the translation not updated to reflect it.
Peter B., German language coordinator of the Shotcut team in Trasifex, was notified and fixed the typo. Only remains to confirm this in the next update.