Hello,
after uploading a JPG photo to Shotcut, the colors are not correct. It's not very saturated.
you will help.
Can you upload a screenshot of the properties panel for your image? That will help us understand your problem.
Hi,
On the left photo in the gallery, on the right after loading in shotcut
I will add that when editing video files there is no problem.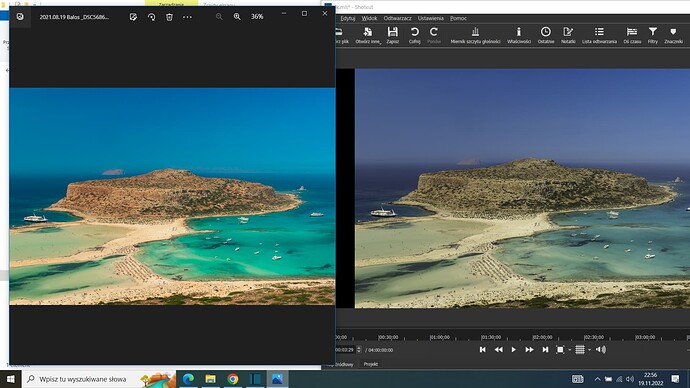 Click on the "Properties" button and upload the screenshot of that panel.
The properties look OK, do you have any filters applied, accidentally or not, to the clip, the track, or the output?
I've worked with these files before and everything was fine,
I don't use any filters. I even reinstalled shotcut version 22.10.25 and nothing
Strange thing, when I took a screenshot of this file and imported it into shotcut, the colors are correct, but only then
If you upload the jpg file to the forum, I'm sure someone would look into the problem for you.
I uploaded the photos to Lightroom and without any editing, exported them again, it helped. There seems to be an error in the jpg files.
Thank you for your help.
How strange - never mind, at least you are back on track (or at least the JPEG is).
I suspect the original JPEG file was color-managed under a different profile. The filename was _DSCxxxx, which suggests it came direct from a camera. In that case, the two usual color options are sRGB and Adobe RGB. There's a chance the original image was Adobe RGB which has a much larger color gamut. When Lightroom exported the photo, it probably converted the image to sRGB color profile which is what Shotcut expects. Looking at the metadata of the original image would confirm or refute that idea.
The file that came out of the camera was a Raw file, after processing in Lightroom it should come out as a jpg in the sRGB color profile, but … for some reason a lot of photos were saved as jpg with uncalibrated color mapping. That's the problem with these files.
To sum up, files saved in the "uncalibrated" color profile are files with color problems in shotcut. Files in the sRGB color profile display almost correctly in shotcut, almost because it's also not perfect compared to the original jpg file (unless shotcut isn't a perfect slideshow program)
This topic was automatically closed after 90 days. New replies are no longer allowed.