Been trying to export audio at 256kbs CBR, but it always exports it to VBR … I checked with mediainfo.
Its mp4 /h264.
Another thing is that if I selected 256 CBR Audio and then save as a custom export setting, then it does not save the CBR Audio setting (switches it back to VBR).
Something I am doing wrong ?
This topic is discussed here : Preset audio bit rate control setting
But what was the resolution ? It says solved, but it doesn't seem to be solved.
FFMPEG AAC encoder does offer a CBR setting and its VBR function is approximated according to a 1-5 scale.
Which do not seem to be visible in the shotcut panel.
For Odysee.com videos the recommended settings are CBR … "-c:a aac -b:a 160k ", and it makes a big difference if you make videos with ambient tracks that need to have a constant quality or they fade in and out according to the VBR tuning.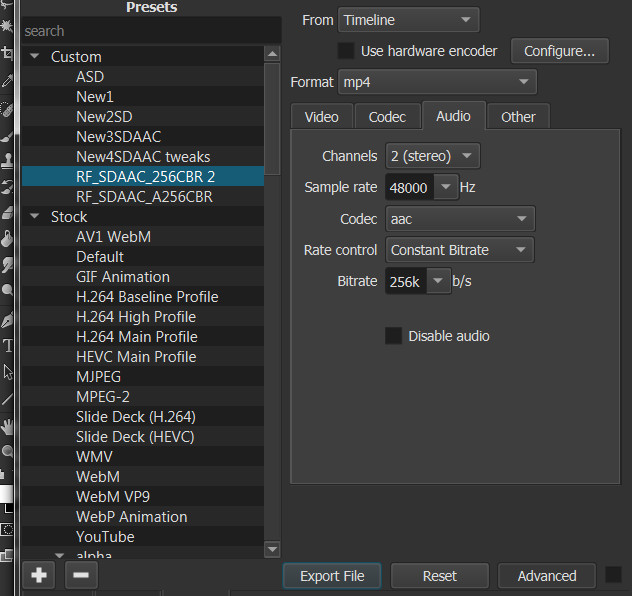 Further tests :
1 channel mono … renders at a lower bitrate … even if 256 CBR is selected, I get about 155 kbs (mode=Variable) on this project.
2 channels stereo renders 230 kbs (mode-Variable) (with 256 cbr selected).
using quality based vbr at 95% I get 380kbs (mode = Constant) !!!
… audio bit rate "mode" is listed in mediainfo btw