Hi
I have created a .mlt for a lower third (my name), that I intend to use in multiple projects. The name is not created as text in shotcut, rather it is created as a png in another program and then imported into shotcut project. The font color of the text in the lower third is white and the background color is transparent (black).
The Lower third mlt itself looks like this.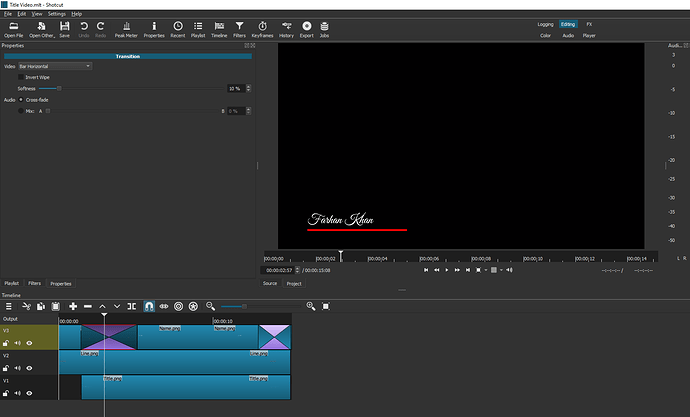 When I use this .mlt in another project and the text animates in that project. The text appears to be showing a shade of Black (background) before appearing in its original color i.e. White. If I change the background color to any other than black, then that other color appears in the text so I am sure that the text is taking the back ground color. Since it's not a text layer therefore, I can't use the "Adjust opacity instead of fade with black" option to fix this.
Since a new member to the Forum can only put only one embedded media in the post therefore I have posted a screen shot of what the text looks like when it animates as a reply to this post. Please check out the snapshot there.
What am I doing wrong here? Why the text shows the background color during the animation before appearing in its original color? Why not simply start appearing in its own color?
Any help on how to get it right would be appreciated.
I am using version 21.03.21.