-42 dB is really, really quiet. Is there any chance that background noise or hiss in the audio is registering on the peak meter but not strong enough to be visible on the much-smaller waveform?
I tested this.
Crerate a Audio with File / Open other / Audio Tone
Frequency: 1000 Hz
Level: -42 dB
Add it to timeline.
Export as WAV (because. no audio waveform)
Add new wav file to timeline.
There is audio waveform and audio(sound) (-42 dB, 1000 Hz)
In fact, this is not a very important problem.
However, I use waveform to cut out the pauses in my screen recording videos.
my writing may not be understandable because my english is not good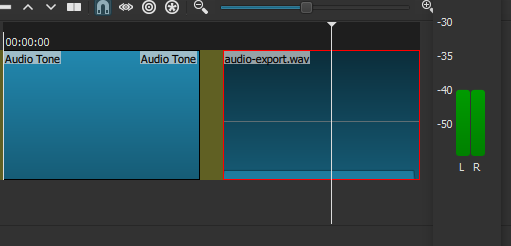 Excellent test method and results!
What is the codec of the sound file causing the problem? If it's a compressed format that doesn't seek accurately, I wonder if Convert to Edit Friendly or conversion to WAV would synchronize everything.
Did you use full scaled zoom? That picture seems so.
The screen recording program I use is recording in MP4 format (I think it's compressed).
I tried converting the MP4 file to a edit-friendly format.(for test). No problem.
I also mentioned in my previous message
Normally, I do not convert my recorded videos due to time saving
This topic was automatically closed after 90 days. New replies are no longer allowed.