Maybe someone could help me to understand and solve this strange problem.
I'm on Mac OSX capitan and I created and exported a project with Shotcut.
Reading this file on the computer with Quicktime or VLC is no problem, the audio and video are perfectly synchronized.
On the other hand, if I copy this file on a USB key and read it on my Samsung TV, the sound and the image are shifted as I play. After 5 minutes, I have almost 1 second of lag.
Here are the different data of the project.
All source clips are from my Canon camera with this format: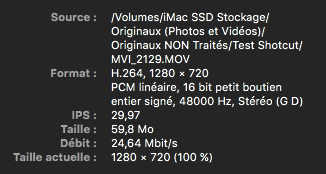 The project was created using this personal profile preset
width=960
height=540
sample_aspect_num=1
sample_aspect_den=1
display_aspect_num=16
display_aspect_den=9
progressive=1
colorspace=709
frame_rate_num=30000
frame_rate_den=1001
The project was exported using this personal export preset
f=mp4
acodec=aac
ar=44100
ab=128k
vcodec=libx264
vb=3,5M
g=150
bf=3
width=960
height=540
aspect=1,77778
progressive=1
top_field_first=0
frame_rate_num=30000
frame_rate_den=1001
threads=0
vpre=medium
preset=medium
movflags=+faststart
I did not well understand in other threads the subtlety between all these parameters
29.97 - 29.970030 - frame_rate_num = 30000 - frame_rate_den = 1001
No doubt that I use in these presets something that the decoder of my TV does not like.
Thanks for your help.