Ok, my next and final project.
I want to take 2 hours of video from 3 separate gopro cameras, clips of audio from 1 of the gopros and some music mp3 and combine them into a 12 min video. I have +30 such sets to process so this calls for some programming.
My 1st step was to put all the source material into a shotcut project.
So I have 7 tracks on the time line.


The video shrinking sofware I am creating now has to reformat the source MLT into a new MLT that Shotcut can use to render my short video.
The software reads in the MLT and splits it into 7 sub project MLT files, one for each track.
These 7 MLT files are then loaded into the final MLT as the playlist resources.
This works 100% and I can play / work with each sub MLT using the usual Shotcut features. All good so far.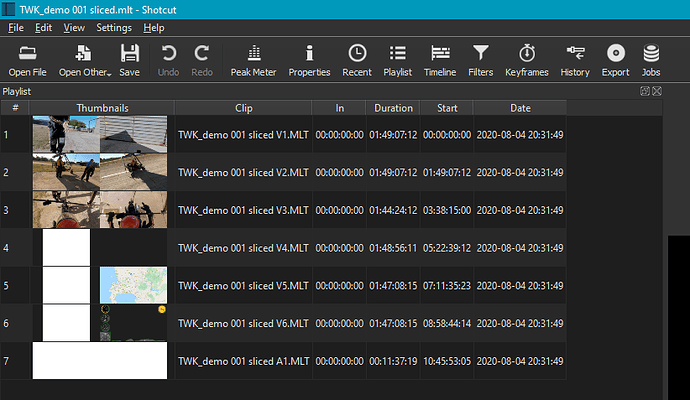 My next challenge is to create the audio tracks.
A1 will contain the music
A2 will contain the voice clips
I want to fade in / out as I switch from music to voice clips.
My music sub MLT is "playlist6"
My voice sub MLT is "playlist0"
My xml for the 1st voice clip with fadeout
TWK_demo 001 sliced.mlt (3.1 KB)
Problem: the video plays but no audio. Help pls
Displays fine in shotcut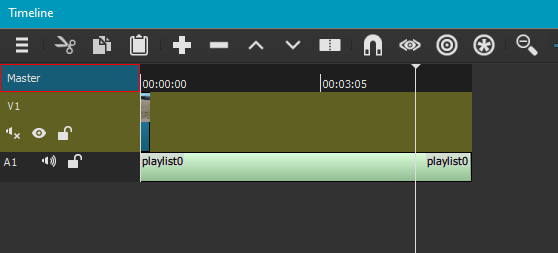 This is the xml that I suspect is wrong:
  <producer id="ProducerVFO1" in="00:00:00.000" out="00:05:41.375">
    <property name="resource">playlist0</property>
    <filter id="FilterVFO1" out="00:05:41.375">
       <property name="window">75</property>
       <property name="max_gain">20dB</property>
       <property name="level">00:05:40.375=0;00:05:41.373=-60</property>
       <property name="mlt_service">volume</property>
       <property name="shotcut:filter">fadeOutVolume</property>
       <property name="shotcut:animOut">00:00:01.000</property>
     </filter>
  </producer>