I was trying to do a text reveal effect with Mask: Draw that I saw here in a tutorial for Kdenlive.
In that tutorial, he uses a text clip and applies the masking effect to it while the footage is on the layer underneath.
I tried to add the Mask: Draw filter to a transparent clip with Text: Simple like it was done in that tutorial in Shotcut but it didn't work. Unless I missed something, the only way I got it to work is to make several sections of clips and copies of them. Here is how it looks in the timeline in order to make the text reveal effect work:

That is a lot of steps and isn't as quick as it should be.
It would be a lot quicker if there were additional functions added to Mask: Draw (Glaxnimate), specifically the Alpha Operation option that is found in other filters like Mask: Simple Shape and Chroma Key: Advanced.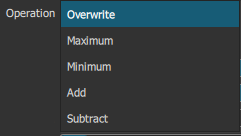 Also, Chroma Key: Advanced has the Invert option in the filter itself which would be very handy if it was already in the Mask: Draw (Glaxnimate) filter rather than having to add another filter (Alpha Channel: Adjust) just to do Invert especially considering how common that function will be used when doing masking.
Can these two functions be added to Mask: Draw (Glaxnimate)?