Wow, complex! But worth the effort
Thanks for the explanation.
Ah, now I understand!
First I thought it was a prof ex video…
This is my first post here, been using Shotcut for my youtube channel for about one year now (before that it was a direct upload of films from my camera without any effect, editing, or anything at all).
I tried Vega (hated it), Windows Movie Maker (too limited), DaVinci Resolve (really liked it, but it did not like the native file format of my Panasonic camera).
My latest video (as of yesterday) is my most complicated so far - that's not saying much really -, and involves three tracks, cross fades and image overlays.
It's definitely very geeky and interesting for about 50 people worldwide, but yeah
Hi,
now that I call an A-40 my own, here is my first video, with material made with it:
La Beau Des Rêves
I hope you like it (too).


'Til then…
Hi,
I would like to invite you to watch my newest video on YouTube.
It could be epic:
I Can Stand It
Best regards
Earlybite
Feel free to make a new post in the Made with Shotcut category instead of posting each to this thread. This thread is mainly for channels. But, as always, thanks for sharing!
Here's one of my newest Shotcut-edited videos:

Hi this is Jens! Happy to be part of this group. My YouTube channel is Old Man Fat Bike.
My most recent video for your viewing pleasure. Peace people…
Last videos are made with ShotCut

Here is something I made.
And I think Shotcut Did a great job on Chroma Key as well as other effects-

Since last time, I started to use many more of shotcut features, such as the playlist, copy-pasting filter settings, subtitles, split audio tracks, overlaying videos on top of another video, and a lot of ripped edit cut across all tracks, thanks for this magic button!
And what the editor looks like: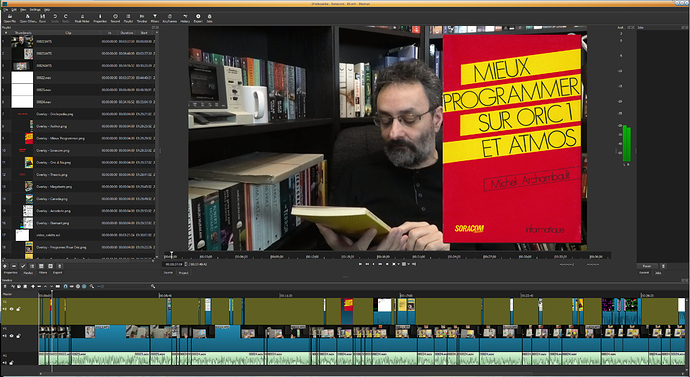 Hi @bentacular, I'm feeling hungry now
Great vid, I enjoy all your videos!! Did you add some colour grading to this, or maybe a LUT? Thanks!
Jonray, I think you're my only fan lol. Thank you! It means a lot! I did do some color grading, especially because of how dark the restaurant was inside. I'm still playing around, looking for my style so my color grades are all over the map. I have made my own LUTs on photoshop, for mostly the orange and teal look (I can share some). I got tons of other videos on my channel: https://www.youtube.com/channel/UCML85b1xfpEAtl-fh8pm_BQ
I'd love for you to subscribe and tell me what you think. 99% of those videos were cut on Shotcut.
Have a great day!
@bentacular - I do love all your videos!! Subscribed, liked an commented! The only problem is that my comments have appeared as from "Shotcut Short Examples", not my name (I hadn't realised I was logged in to Youtube with that account). Sorry about that - don't think I can change it…
If you are able to share a few, that would be fantastic, thanks!
Thank you for the LUTs! I'm sure you have loads of other fans hiding away somewhere…
More than 110 badminton streams in the youtube-channel: badminton-tips Germany.
I have divided all the badminton-exercises into categories on my webpage:
www.badminton-tips.de
2015-2017 cutted with other video-editors. but since 2018 all with Shotcut.
bye,
Ralf
I featured your video and screenshot on Twitter for #TimelineTuesday.

Thanks!
I did not realize I was not following the Twitter account, that's now done