What is your operating system?
Windows 10 Home
What is your Shotcut version (see Help > About Shotcut)? Is it 32-bit?
20.11.28 64-bit
Can you repeat the problem? If so, what are the steps?
(Please be specific and use the names as seen in Shotcut, preferably English. Include a screenshot or screen recording if you can. Also, you can attach logs from either View > Application Log or right-click a job and choose View Log.)
Edit: Deselecting Text Rich filter before Export Frame or Exporting mp4 lets the text show.
Open Shotcut.
Open Color Clip (Open Other)
Select Text:Rich filter
Within Text:Rich, sub-menu File-Open (Set for .txt) , Open text document.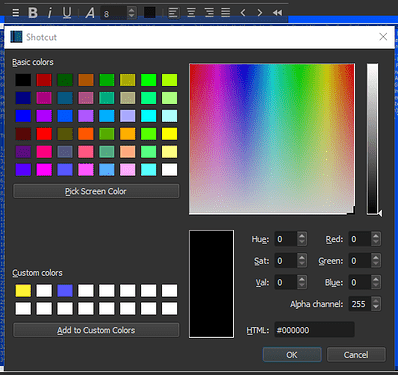 Shows white on the screen, and does not show any text in exported frame.
I can do CTRL+A then set any other color than black.
If I want black now, all I need to do is set it black, and the change happens.
tr 100 black no show.mlt (13.0 KB)
shotcut-log tr.txt (34.4 KB)
Another example. This time I use text from Shotcut's features page.
Before pasting. Has the Vedana font selected.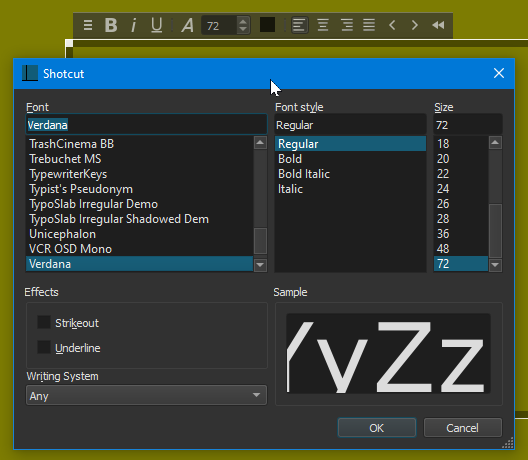 After pasting. Takes on the MS Shell Dlg 2 font.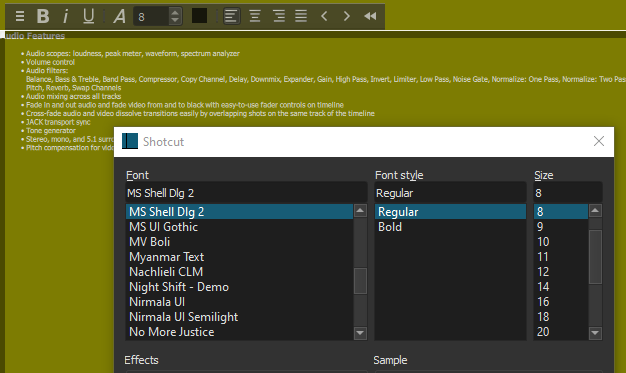 Frame export does not show text.
tr audio features no show.mlt (5.0 KB)
I believe this is the same as this post.
As I've tried with Paste Text Only, yes font appears white, font stays Verdana, but exported frame has no text. In this case tried changing color twice, and it still will not show in exported frame.

Also the same as this post.