So, I've searched for this problem and I've seen many people complaning about it, but none of the answers people gave helped me, so hare I am!
I was editing a video and everything was going fine. I put the size and position filter and it worked perfectly. However, Shotcut crashed and closed on its own.
When I opened it again, there was a black background where there should be the videos below the png image on the track at the top. But the weirdest thing is that the videos appear only if I "show" the track at the very bottom. And I can't delete the video on it either. Otherwise it all will be black.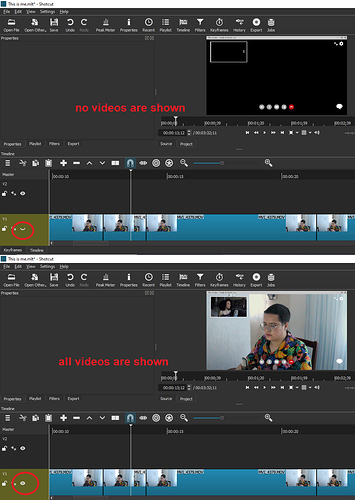 Idk if this is a thing about Shotcut, but it'd never happened to me before.
Anyways, I edited the hole video with the bottom track on "showing" mode and I couldn't delete any part of the video in that track. It was working fine until the moment I had to put two videos side by side using Rotate and Scale and I couldn't because the video at the very bottom stopped showing.
Also, the properties on track 1 don't show the "blend mode" as it does on track 2… I don't know why…
As I said before, I've seen a lot of posts like this in the forum and I still couldn't figure this out. Can someone help me?