What is your operating system?
Windows 10 Home
What is your Shotcut version (see Help > About Shotcut)? Is it 32-bit?
22.09.23
Can you repeat the problem? If so, what are the steps?
(Please be specific and use the names as seen in Shotcut, preferably English. Include a screenshot or screen recording if you can. Also, you can attach logs from either View > Application Log or right-click a job and choose View Log.)
A crash occurs when moving zoom slide all of the ways to the left. Even if you lower it to 0.5% manually, then scroll wheel it down to 0.4% it will crash each and every time. It has to be a video file or a Shotcut-generated video like Count. Tested a few different image files and couldn't make it crash.
Simplest steps to reproduce:
Video Mode: 1080p 30fps
Open Other → Count (default settings work)
Apply Size, Position & Rotate
Move the zoom slider to the left

Or attempt to type 0.4% or less
shotcut-log count crash1.txt (34.7 KB)
During this 2nd crash with Count, I got "The project file requires a newer version!" warning.
shotcut-log count crash2.txt (34.6 KB)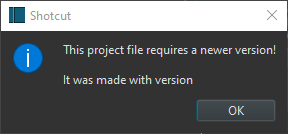 This one did give me an autosave, which is blank, and a duplicate file with an extension .dKmnNr which is the MLT file, from what I can tell, in whole. I removed the dk extension and attempted to open. It does open, shows 0.3% zoom, then crashes in a few seconds.



dKmnNr file.zip (800 Bytes)
The 0kb mlt can't be uploaded to the forum.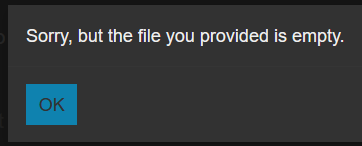 Example video showing the crash.