Hi everyone!
I tried to render a 11minute movie using the MPEG-2 export preset. However, the video causes trouble when played back, e.g. in VLC.
The first 30seconds or so seem to be fine. After that, the video stutters and VLC stops playing the video stream (while it sometimes keeps the audio running). When jumping to a later/earlier position in the movie, there is no image, just audio. Or I have image but no audio. When I do a single frame step in VLC, the images reveal significant artifacts as shown in the following image, where a hand is moving in front of a blue background. The edge of the hand seems to show rectangles of the previous frame: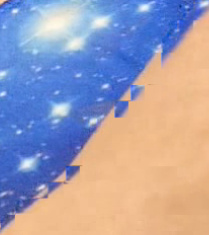 Is this a Shotcut problem? Something wrong in the presets / the encoder? Is it just me/my computer?
What surprises me is that the mpg file has 421MB (for 11 minutes). This seems rather big to me.
I'm using Shotcut version 20.04.12 on Win 7 prof. 64 Bit.