Hello,
I'm making let's play on RDR2. The last exportation works after mutiples tries. I kept the same exportation settings for my new let's play and when the exportation is done i've got only the sound and not the vidéo.
On the first timeline -> my camera, recording my head, hd 1080.
Second timeline -> the game 1080p 60 fps
Trird timeline -> audio timeline, my voice (record with audacity and a mic bird UM1)
here's my exportation settings: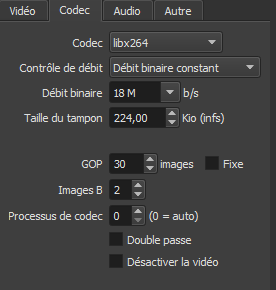 I don't get it, the last let's play, i've got the same problem, but after mutiple tries with différents settings I finally got the video. Here's it's not the case.
Sorry for my english i'm french.
thanks for your help.
Salut,
je fais des let's play sur rdr 2 et quand j'exporte ma vidéo j'ai le son mais pas l'image. Le dernier let's play j'ai galéré, j'ai eu le même problème mais après plusieurs essais avec des paramètres différents ça avait finalement fonctionné. La ça ne marche pas y'a rien à faire.
Timeline 1 -> ma caméra qui filme ma tête en hd 1080
Timeline 2 -> l'image du jeu en 1080p 60 fps
timeline 3-> piste audio, ma voix enregistrée avec audacity et un bird um1
Paramètres de l'exportation ci-dessus.
Une explication?
Merci